An electric car rental is a very popular way to get around the island!
Welcome to Key West, the vibrant and charming island getaway! An electric car rental is a very popular way to get around the island. Are you ready to explore this tropical paradise without the hassle of expensive gas? Look no further – our electric car rentals are here to save the day!
Measuring just four miles by two miles, Key West is a small but lively destination. Finding a parking spot during peak times can be as challenging as finding buried treasure! But fear not, with our eCars, you can zip through the narrow streets with ease, maneuvering like a true island pro. No more circling around endlessly, wasting precious time and energy.
Now, let's talk about the perks of our electric car rentals. Besides being environmentally friendly, they are also beach-friendly! Say goodbye to worrying about sand sneaking into the upholstery or carpets after a sun-soaked day at the beach. Our eCars are a breeze to clean, ensuring an easy peasy island stay.
So, why not embrace the practical and tourist-friendly option? With our zippy electric cars, you'll have a blast exploring the unique charm of America's only Caribbean island. Plus, you'll save some extra coins on gas, leaving more in your pocket for delicious Key West treats!
Book your electric car rental now, and get ready for a stress-free, sand-free adventure in Key West. Your dream island getaway awaits!
Tours Key West offers the most popular tours and attractions in Key West Florida, including Jet Ski Tours, Snorkeling, Parasailing, Dolphin Adventures, Glass Bottom Boat Tours, Sunset Cruises, and so much more. We don't want to sell you just any tour; we want to help you create the exact experience you are looking for on our quirky little tropical island.
Call 305.587.4386
888.667.4386
Electric Car Rentals Put Your Feet on Vacation Too! You know why Electric Car Rentals are such a popular way to get around the island? Because Key West is small…
Nothing Beats Cruisin' Key West in One of Our Golf Cart Rentals! Ready for an unforgettable adventure on the sunny island of Key West? Look no further than our Key…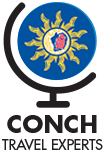 Book your Key West tours and attractions today
Wild and fun or a bit more upscale or laid back-as Conch travel experts we'll help you plan a trip that's perfect for you.
WE MAKE FUN EASYCall 305.587.4386888.667.4386