In order to experience an area that holds the looks it had hundreds of years ago in Key West, you'll want to visit the Back Country. In the Back Country of Key West, you are surrounded by living mangrove islands, stunning inches-deep white sand flats, and calm, narrow channels brimming with incredible wildlife. Take a private charter or go fishing, try an island tour, or go on a sunset cruise to fully explore the wonder.
Tours Key West offers the most popular tours and attractions in Key West Florida, including Jet Ski Tours, Snorkeling, Parasailing, Dolphin Adventures, Glass Bottom Boat Tours, Sunset Cruises, and so much more. We don't want to sell you just any tour; we want to help you create the exact experience you are looking for on our quirky little tropical island.
Call 305.587.4386
888.667.4386
Sorry, we couldn't find any posts. Please try a different search.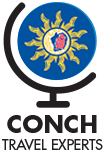 Book your Key West tours and attractions today
Wild and fun or a bit more upscale or laid back-as Conch travel experts we'll help you plan a trip that's perfect for you.
WE MAKE FUN EASYCall 305.587.4386888.667.4386