Key West Sunset Cruises: Key West boasts legendary imagery at the end of the day as the evening draws to an end and the sun slips below the horizon at the water's edge. A magnificent sight to behold in Key West, there's no better vessel to watch a sunset at sea than a catamaran. Let yourself be mesmerized by the breathtaking view on one of the Key West Sunset Cruises.
Tours Key West offers the most popular tours and attractions in Key West Florida, including Jet Ski Tours, Snorkeling, Parasailing, Dolphin Adventures, Glass Bottom Boat Tours, Sunset Cruises, and so much more. We don't want to sell you just any tour; we want to help you create the exact experience you are looking for on our quirky little tropical island.
Call 305.587.4386
888.667.4386
Commotion on the Ocean Sunset Cruise Immerse yourself in a symphony of melodies aboard the Commotion on the Ocean, the ultimate sunset cruise experience designed exclusively for music lovers. As…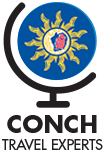 Book your Key West tours and attractions today
Wild and fun or a bit more upscale or laid back-as Conch travel experts we'll help you plan a trip that's perfect for you.
WE MAKE FUN EASYCall 305.587.4386888.667.4386