Key West Island Adventure – is a relaxing morning, low-key EcoTour. The perfect counterbalance to high-adrenaline activities like jet skiing or parasailing. Soak up the beautifully serene backcounty. It's a favorite past time of the islands locals. Get out and walk along the sand bar; see the islands tropical waterways while kicking back and experiencing a relaxing day. Keep your eyes peeled, you are likely to see dolphin and sea turtles in their natural habitat.
Adult: $119.95 Child: (4-10) $94.95 Infant: (0-3) $0.00
Trip Duration 4.5 Hours
Departure Time: 9:30 am
Power Catamaran
Also Available: Island Adventure Afternoon
Trip Features
Snorkel the Backcountry
Kayak Eco Tour
Paddleboards
Relax on a sandbar
Light breakfast (AM trip only) & lunch
Beer, wine, soft drinks, and water
Top-of-the-line snorkel gear
The Island Adventure features snorkeling, kayaking, and sunbathing on a private sandbar, plus breakfast and lunch. Enjoy a light breakfast on a catamaran on your way out to the Gulf coral gardens — You won't run out of things to look at on this backcountry adventure. And the boat's friendly crew will be on-hand to help you with your snorkel gear, which is included free of charge.
After some leisurely snorkeling, you'll head to a private and secluded island for sunbathing and a relaxing lunch. You can explore the natural beauty of the area from an easy-to-pilot sea kayak, making it easy for you to reconnect with nature and see the beauty of the Key West area up close. Enjoy an ice-cold beer on the way back to the dock if you choose...it's also included in the price.
Please note: After your purchase is confirmed you will receive a complete tour itinerary with check-in time, location and what to bring.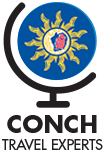 Book your Key West tours and attractions today
Wild and fun or a bit more upscale or laid back-as Conch travel experts we'll help you plan a trip that's perfect for you.