Private Charter – Back Country Kayaking & Snorkeling
Half Day, Full Day or Sunset COMBO is available for Private Charter. Enjoy an all-inclusive Sailing excursion with 26 passengers max. Featuring kayaking, snorkeling through Key West's Beautiful Backcountry Coral Garden and Mangroves. See our back country like a local.
Sail, snorkel & Kayak your afternoon away! The afternoon back country trip is similar to the morning excursion but gives you a chance to sleep in a little later if you choose. On the afternoon trip you will enjoy the same activities as the morning, kayaking, snorkeling and sailing. Snacks and drinks will also be provided along the way. One of many great things about the afternoon trip though is the Key West sunset seen from the water on the way home. Truly one of the best ways to end your day. Kayak, Snorkel & Sail Among Key West's Natural Wonders.
Overview
Details
Know Before You Go
Cancellation Policy
Rules and Regulations
Contract Required 8:00 am - 10:00 pm daily. (Summer 11:00 pm) 26 PASSENGER Max (78) Total 3 Boats <strong>Half AM</strong> Departure Time 9:00 am -1:30 pm <strong>Half PM W/Sunset</strong> Departure Time 2:00 pm - 6:30 pm <em>Summer: Departure Time 3:30 pm - 8:00 pm</em> <strong>Full Day</strong> Departure Time 9:30 am - 4:00 pm <em>Summer: Departure Time 10:00 am - 4:30 pm</em> (6.5 Hr) Sail, Snorkel Kayak , Fresh fruit and healthy snacks , Soft drinks and water, beer after snorkeling
Please note: After your purchase is confirmed you will receive a complete tour itinerary with check-in time, location and what to bring.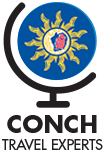 Book your Key West tours and attractions today
Wild and fun or a bit more upscale or laid back-as Conch travel experts we'll help you plan a trip that's perfect for you.