Key West Private Helicopter Tours! Experience a bird's eye view of the island. See waters, and wildlife for the best vacation activity your entire family will enjoy! Looking for a Ultimate Island Helicopter Tour of The Florida Keys or Key West? Or perhaps you would like a scenic photo flight over Fort Jefferson and the Dry Tortugas in your very own private helicopter? Air Adventures offers unique helicopter tour experiences. Book your helicopter sightseeing tour now and see Key West Florida – the way it was meant to be seen. Give us a call today and we'll make your dreams a reality!
Up to three passengers can enjoy flight
Discovery Ride $207.00 (approx. 5 minutes)
Island Tour $297.00 (approx. 10 minutes)
Key West Eco Tour $477.00 - Most popular tour!  (approx. 20 minutes)
The Ultimate Island Experience - $627.00 (approx. 30 minutes)
Custom Flights available upon request
Highlights
Take in views of The Florida Keys on a private helicopter tour
Fly directly over the island and see points of interest
Choose from morning, afternoon, and sunset flights
You're not just seeing the sights, you're floating inside them! There is nothing like it. A helicopter tour truly is the only way to fly.
Ask us about customizing your flight - we will do our best to make it happen!
Marriage proposals
Special Events
Aerial photography
Real estate scouting
Environmental & land surveying
Helicopter training CANNOT  be provided
Adventure's is the most thrilling attraction in Key West, with tours starting at just $69 per person! Get a bird's eye view over the beautiful waters of Key West, spot wildlife like sea turtles, dolphins, and stingrays, and view parts of the island that are only accessibleby air and sea. Whether you have an entire afternoon to kill, or are just visiting us on a cruise for a few hours, we have a tour that will fit your time and budget! If you are a first-time flyer or an experienced pilot, all of our tours are fun, family-friendly, and guaranteed to put a smile on your face!
Please note: After your purchase is confirmed you will receive a complete tour itinerary with check-in time, location and what to bring.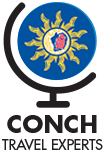 Book your Key West tours and attractions today
Wild and fun or a bit more upscale or laid back-as Conch travel experts we'll help you plan a trip that's perfect for you.