Sail, Snorkel & Kayak Afternoon
Sail, snorkel & Kayak your afternoon away! This back country trip is similar to the morning excursion but gives you a chance to sleep in a little later if you choose. On the afternoon trip you will enjoy the same activities as the morning, kayaking, snorkeling and sailing. Snacks and drinks will also be provided along the way. One of many great things that stands out with this trip though is the Key West sunset seen from the water on the way home. Truly one of the best ways to end your day. Kayak, Snorkel & Sail Among Key West's Natural Wonders.
Sail, Snorkel, Kayak, Afternoon Sunset
Adult: $99.00 Child $79.00 (4 to 12) Toddlers: (0 to 3) Free
Trip Duration: 4.5 Hours
Check in 30 minutes prior to departure
Departure Time: 3:30 pm (seasonal time changes)
Boat: 65' Shallow Draft Schooners
ALSO AVAILABLE:
Highlights
Help raise sails on 65ft tradition style schooners.
Sailing through the shallow waters of the Key West National Wildlife Refuge.
Snorkeling on pristine lush sponge gardens or isolated boulder corals patch reefs.
Bite into our Fresh tropical fruit platter.
Enjoy going back in time with a historical chart talk.
Adventure around the mangrove canopy spotting and variety of bird and marine life.
Relax as we teach or refresh your memory about tips for snorkeling and kayaking.
Take in all the beautiful scenery around you as the sun sparkles off the water.
You'll see why EcoTours are one of the most popular things to do in Key West as you paddle through lush mangrove islands and private patch reefs. It's a treat for all your senses, as you listen to the tropical bird calls and watch rainbow-hued fish swim below you.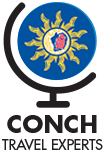 Book your Key West tours and attractions today
Wild and fun or a bit more upscale or laid back-as Conch travel experts we'll help you plan a trip that's perfect for you.