Zuma Scooter Rental – Double Rider
Key West scooter rentals let you enjoy the sightseeing without having to worry about parking. These fun, inexpensive and convenient scooters are easier to park than full-size vehicles, and parking is free throughout the island. And for your convenience, you can even get a free shuttle to your scooter from anywhere in Key West.
Yamaha Zuma  2-person Scooter Rental Pricing & Requirements
3 Hours: $45.00
5 Hours: $55.00
8 Hours: $65.00
24 Hours $85.00
Multiple Day Rentals: 1st 24 Hours $85.00 + Each Additional Day $45.00
Rental locations open 8:00 am - close 9:00 pm daily (All Year)
Must be 18 years or older with Credit Card & Valid Drivers License
ALSO AVAILABLE:
Scooter Rental Single Rider
Helpful Hints for Key West Scooter Rentals
Scooter rentals are available in half-day, 8-hour, 24-hour, and multi-day increments.
The longer your rental term, the lower the average per-hour cost. (However, scooter rental prices are quoted as a flat fee.)
Yamaha Zuma double scooters are larger and more comfortable for drivers with a large frame.
Baskets are available upon request to stow your gear. Most scooters have an under the seat compartment as well.
Helmets are available and optional unless you are under the age of 16.
All scooter rentals are equipped with anti-theft locks.
Shuttles are available from anywhere in Key West to get you to and from the rental agency.
What's Included
Operating Instructions
2 Passenger Max
Complimentary pick up & drop off from anywhere on the island
Fuel
Key West Map
Why Rent a Scooter in Key West?
Key West is small (just four miles by two miles) so parking can be hard to find during busy times. And gas can be expensive. That's why scooter rentals are such a popular way to get around the island. These zippy scooters are easy to maneuver around the narrow streets of America's only Caribbean island. And unlike a standard rental car, you don't have to worry about getting sand out of the upholstery or carpets after a day at the beach. These rugged scooters are tourist-friendly.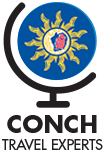 Book your Key West tours and attractions today
Wild and fun or a bit more upscale or laid back-as Conch travel experts we'll help you plan a trip that's perfect for you.