Exhilarating Sightseeing 90 – Minute Jet Ski Tour
Your 90 Minute Jet Ski Tour will depart from one of our four Key West locations. Guides will help you explore the Atlantic and Gulf side of the island in the most exhilarating sightseeing adventure on the island.
Witness Wildlife in Their Natural Environment
Feel free to rev it up and make a splash…or take your time and enjoy all the magnificent scenery that surrounds you. During your 90 minute Jet Ski Tour adventure, you'll get to experience tour stops at several locations. You can bring a friend along or ride solo – the choice is yours! As you cruise around the island, keep your eyes peeled for cool stuff like bottlenose dolphins and sea turtles. They might just make a special appearance!
Stop at a Sandbar – Take a Swim
But here's the really exciting part: our Key West jet ski tour includes a stop at a fantastic sandbar. It's like a little paradise! You can park your jet ski, jump into the water, and have a blast swimming and splashing around. Take your time to explore and enjoy the beauty of this incredible spot. It's the perfect chance to relax and recharge before you continue your amazing adventure. So get ready to make unforgettable memories on our jet ski tour!
Up to three Riders, not to exceed 460lbs (208KG)
8:30 am to 5:30 pm (seasonally)
DEPARTURE LOCATIONS: (choose from 4 locations)
241 Front Street, 0 Duval Street, 617 Front Street, 601 Front Street
CHECK-IN: 1 hour prior to start time!
(exceptions noted under rules and regulations tab)
Jet Ski Features
Top-of-the-Line Jet Skis
Accommodates up to 3 people
Single or Double Riders
Tour Highlights
90 Minute Guided Jet Ski Tour
Jet Ski & Life Jackets
Professional Instruction
Captain Your Own Jet Ski
Switch Drivers
See Mallory Square and The Southernmost Point
Take a Dip at a Sandbar
Watch wildlife in Their Natural Habitat
Perfect for Both Beginners & Experts
Wetsuit rentals available seasonally with limited sizing (cash or credit)
What to Bring
Valid Government Issued Photo I.D.'s, All Adults 18 years & older,
(passengers and drivers, see jet ski regulations tab)
One Credit Card Per Reservation
Towel
Reef Safe Sunscreen
Bathing Suit
Sun Protective Clothing (ie. Sun Shirt)
Floating Straps for Sunglasses (recommended)
Waterproof Camera
Gratuities Customary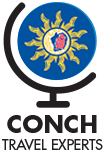 Book your Key West tours and attractions today
Wild and fun or a bit more upscale or laid back-as Conch travel experts we'll help you plan a trip that's perfect for you.