Cruise Ship & Day Visitors
Welcome!
Key West Cruise Ship & Day Visitors – we have tour packages just for you! We can help you discover all the best things to do in Key West, no matter how long you'll be joining us. We've packed these day trips and excursions with maximum fun in the minimum amount of time. Key West is America's only Caribbean island…and you can have fun on land, on the water, or even in the air!
Best Things to do in Key West
If you're looking for a wet and wild adventure, you can choose a Key West Jet Ski Tour. If you want to get closer to nature, you can Snorkel the Reef, or Snorkel and Dolphin Watch. If you'd rather look at the water than get wet in it, the spectacular reef views from a Glass Bottom Boat Eco Tour may be just right for you.
A Key West Parasailing Adventure could be just the ticket! Safely suspended below a parasail rig, you'll enjoy the sights of Key West from hundreds of feet in the air. Parasailing, jet skiing, and Electric Car or Scooter Rentals are conveniently located within minutes of the cruise ship port.
Tours Key West offers the most popular tours and attractions in Key West Florida, including Jet Ski Tours, Snorkeling, Parasailing, Dolphin Adventures, Glass Bottom Boat Tours, Sunset Cruises, and so much more. We don't want to sell you just any tour; we want to help you create the exact experience you are looking for on our quirky little tropical island.
Call 305.587.4386
888.667.4386
See Wild Dolphin in Natural Habitat Prepare for an exciting and personalized encounter on our Wild Dolphin Safari & Snorkel. Grab your cameras and bring your adventuresome spirit! Know as…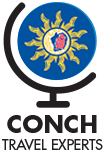 Book your Key West tours and attractions today
Wild and fun or a bit more upscale or laid back-as Conch travel experts we'll help you plan a trip that's perfect for you.
WE MAKE FUN EASYCall 305.587.4386888.667.4386