Sportfishing Private Charter 38′ Hatteras
Key West Sportfishing Private Charters don't get much better than this! The "Cowgirl ll" is a 38′ Hatteras equipped with cabin, a/c and restroom. During your 4,6,8,10 or 12 hour private fishing charter, you and up to 6 persons will enjoy fishing for sport species such as Mahi, Wahoo, Black Fin tuna, Sailfish, and Marlin! It's your day, we can customize your trip, just ask! 
Sportfishing Private Charter 38' Hatteras
"Cowgirl ll" a/c, cabin, restroom
Inshore Shark Fishing 4 hrs: $600
Deep Water Shark Fishing 4 hrs: $750
Half Day Private Charter: $750
3/4 Day Private Charter: $1,050
Full Day Private Charter: $1,350
10 Hour Private Charter: $1,550
12 Hour Private Charter: $1,750
Trips
Inshore Shark Charter Inshore shark fishing is an exciting experience that can push even the most seasoned anglers to their limits! With the right equipment, you'll be abe to find plenty of sharks in the calm, shallow waters. Light tackle can make the challenge even more thrilling, as you'll need to work extra hard to land one of these powerful creatures. We always practice safe fishing techniques. Good luck, and tight lines!
Deep Water Shark Deepwater shark fishing is an exciting way to experience the ocean's depts. Depending on the sharks you're targeting, you may want to choose either light or heavy tackle. Light tackle is best for smaller sharks and will give you a more challenging fight, while heavy tackle is more suitable for larger sharks. The structure is also important when Captain is considering the type of tackle to be used. Sharks on wrecks tend to be a bit larger than those inshore.
Half Day Private Charter: Thank your for your request! We would be delighted to arrange a 4-hours fishing trip for. you. Our captain is knowledgeable and experienced and will be able to advise you on the best target fish depending on weather conditions. We will always try to fulfill. your request, and ensure that you have a productive and enjoyable day. Please let us know if you have any questions or special request and we will do our best to accommodate you. Thank you again for choosing us!
All Ages Welcome! For up to 6 people
Come catch some Mahi, Wahoo, Black Fin tuna, Sailfish, and Marlin!
What's Included in your Key West Deep Sea Fishing Charter?
Includes everything (rods & reel, tackle, bait, and license).
Ice and coolers
A private charter consists of the Captain, his First Mate, you and your personal guests. On private charters the crew can cater to your specific desires and dreams.
What You'll Experience:
Exclusive fishing excursion with up to 6 anglers max
Bottom reef fishing, trolling, and other fishing tactics
Custom-tailored trip hunting for your target fish species
Scenic day on the water lasting 4, 6, 8, 10 or 12 hours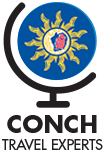 Book your Key West tours and attractions today
Wild and fun or a bit more upscale or laid back-as Conch travel experts we'll help you plan a trip that's perfect for you.