Historic Seaport Food & Cultural Walking Tour
Discover the depth of Key West's fresh seafood and explore the sights, sounds, and intoxicating flavors of  the city through it's charming historic seaport. Sample 6 local specialties as you follow your passionate guide from one beloved eatery to the next. Curated with Sea-Foodies in mind, this food tour is ideal for those who are more inclined to the fruits of the sea. Tastings include fish tacos, lobster mac n cheese, locally-made beers, and more. Reserve today – your Historic Seaport Food & Cultural Walking Tour.
A 'best-all-around' food tour of fresh local ingredients straight from our waters. Taste maritime history as we walk the historic seaport!
Adult: $75 Child: (12yrs and under) food included $49 Child: (6yrs and under) no food included $0.00
Trip Duration: 3 Hours
Tour begins: 11:00 am and 3:30pm
Distance Covered: 1.3 Miles
What to Expect
5+ tastings: Come hungry.
Generous tastings of fresh, local seafood like Key West pink shrimp, conch ceviche, and more!
Learn unique fun facts and the history of Key West from knowledgable local guides
Listen to the history and origin of our Historic Seaport and the industries that shaped the tiny island
Walk off the beaten path of Duval Street and into historic neighborhoods and hidden gems
With advance notice, some dietary restrictions can be accommodated with tasty substitutions.
Includes Seafood Lover's Food Tour booklet – filled with coupons, map, and recommended eateries!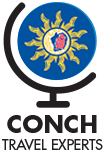 Book your Key West tours and attractions today
Wild and fun or a bit more upscale or laid back-as Conch travel experts we'll help you plan a trip that's perfect for you.