Key West Jeep Rentals Will Take You on an Island Journey!
Our Jeep Rentals offer the perfect opportunity to explore this beautiful paradise in style and comfort. Are you planning an unforgettable adventure in Key West and craving a thrilling ride? Look no further! Our Jeep Rentals offer the perfect opportunity to explore this beautiful paradise in style and comfort. Imagine cruising the streets of Key West with the wind in your hair and the sun on your face.
Travel Up & Down The Florida Keys on Our Scenic Overseas Highway
Our top-notch fleet of Jeeps is ready to take you on an island journey. Whether you're looking to soak up the sun on the beach or travel up & down The Florida Keys on our scenic Overseas Highway. Are you ready for a Key West Jeep Adventure? Now, all you have to do is choose which Jeep you want. We've got a wide selection of Jeeps to choose from. Whether you want a 2-door or 4-door, soft top, hard top or no top at all, we've got the perfect Jeep to suit your style and needs.
Top-Notch Jeep Rentals
Why choose us for your Jeep rental needs? Well, we pride ourselves on providing an unmatched experience that caters to both locals and tourists alike. Our customer service is top-notch, ensuring that you have a seamless and stress-free rental process from start to finish.
Wide Selection of Jeeps: We have a diverse range of Jeeps to suit your preferences, from compact models for solo travelers or couples to spacious options for families and larger groups.
Unbeatable Rates: We believe that adventure should be accessible to everyone. That's why we offer competitive rates without compromising on the quality of our service.
Easy Online Booking: Our user-friendly website allows you to book your dream Jeep in just a few clicks. No need to spend precious vacation time sorting out paperwork – we've got you covered!
Flexible Rental Periods: Whether you need a Jeep for a day, a week, or even longer, we offer flexible rental periods to accommodate your travel plans.
Local Expertise: As locals ourselves, we know all the hidden gems and must-visit spots in Key West. Feel free to ask us for recommendations – we're more than happy to help you plan your adventure.
So, if you're searching for the best way to experience Key West's charm and enchanting beauty, look no further than our Jeep Rentals. Don't miss out on the chance to explore this paradise on four wheels and make memories that will last a lifetime. Rent a Jeep in Key West today and let the adventure begin! Book now to secure your dream ride for an unforgettable journey through our little slice of paradise.
4 hrs - 8 hrs - 24 hrs - Multiple Days
CHECK-IN:
15 minutes prior to start time!
DEPARTUE LOCATION:
3424 N. Roosevelt Blvd., Key West, Florida 33040
Jeep Features
Lifted, & Non-Lifted
2-Door & 4-Door
Doors On or Doors Off
Your Rental Includes
Jeep Rental
First 300 Miles are Free
Air Conditioning
Stereos
Airbags
What To Bring
Valid Driver's License
Credit Card
Insurance Companies Name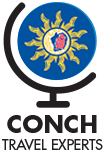 Book your Key West tours and attractions today
Wild and fun or a bit more upscale or laid back-as Conch travel experts we'll help you plan a trip that's perfect for you.