Jacked up Jeeps with lift kits, 35 inch tires, and customized to however we felt like creating. See and be seen. You'll be liked, shared and followed all over instagram and facebook when you post selfies taken in the Keys with a lifted Jeep.(click photo to enlarge)
Whether you're in Key West for romance, celebration, a family getaway or all of the above, let us help you turn your vacation dreams into reality. Just want to see the island? Explore some of the restaurants on Stock Island or Geiger Key? Going Skydiving – we have special rates for you. A day with the kids? Why not Jeep the scenic drive up US1 to see the Key Deer, visit the Turtle Hospital, Aquarium Encounters, Dolphin Research Center or Theater of the Sea? Kids love Jeeps! A day at the beach? Our Beach Package includes, chairs, umbrella, a cooler and ice.
Jeep Wrangler non-lifted 2 door (4 passenger) or 4 door (5 passenger)   
Hourly: $27.00
8 hours: $125.00 Pick up today, return today. After hours drop off available.
24 hours: $175.00 From the time you pick the car up, if you need a little more time, just ask.
2 day $300.00
All prices plus tax and optional insurance. Long term rentals and custom request are available. Just give us a call at 888-667-4386.
3 day $425.00
4 day $550.00
5 days $675.00
6 days $800.00
7 days $875.00
14 days $1,400.00
21 days $1,995.00
28 days $2,520.00
If you have any unusual needs, such as
multiple Jeeps for wedding parties
, corporate events, or whatever reason, contact us, we'll be happy to work with you.
Our short term rental rates compare favorably to Electric Cars (know by the Conchs as Ecars) and Golf Style buggies, with these important distinctions. Ecars and Golf Style buggies cannot leave the island, Jeeps can. Jeeps have air conditioning, stereos and airbags. Ecars and buggies don't.
Jeeps can go the speed limit (trust us, this will matter when you're here!)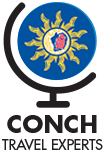 Book your Key West tours and attractions today
Wild and fun or a bit more upscale or laid back-as Conch travel experts we'll help you plan a trip that's perfect for you.