Key West Golf Cart Rentals
Your Key West Golf Cart Rentals will get you around the island in a fun and friendly way! There are two types of car rentals, electric and gas. Typically, gas is used for longer rental times and when traveling longer distances which allows you to be free from worry about charging.
These fun, inexpensive golf carts are easier to park than full-size vehicles. For your convenience, you can even get a free shuttle to your electric vehicle from anywhere in Key West.
Rentals & Requirements
Offering 4 seat, 6 seat, and 8 seat rentals
3 Hours
8 Hours
24 Hours
Multiple Day Rentals
Rental locations open 8:00 am - close 9:00 pm daily (All Year)
Must be 22 years or older with Credit Card & Valid Drivers License
What's Included:
Operating Instructions
Offering 4 seat, 6 seat, and 8 seat rentals
Complimentary pick up & drop off from anywhere on the island
Key West Map
ALSO AVAILABLE: Key West Electric Car Rentals
Helpful Hints for Key West Electric Car Rentals
Rentals are available in 3 -hour, 8-hour, and 24-hour increments, plus multi-day rentals.
The longer your rental term, the lower your average per-hour cost. (However, prices are quoted as a flat fee.)
Walk-up rates tend to be higher, so you can save money by reserving your eCar in advance with ToursKeyWest.com.
Shuttles are available from anywhere in Key West to get you to and from the rental agency.
Why Rent an Electric Car in Key West?
Key West is small (just four miles by two miles) so parking can be hard to find during busy times. And gas can be expensive. That's why electric car rentals are such a popular way to get around the island. These zippy eCars are easy to maneuver around the narrow streets of America's only Caribbean island. And unlike a standard rental car, you don't have to worry about getting sand out of the upholstery or carpets after a day at the beach. These rugged cars are tourist-friendly.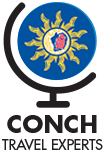 Book your Key West tours and attractions today
Wild and fun or a bit more upscale or laid back-as Conch travel experts we'll help you plan a trip that's perfect for you.