Key West Island Adventure
Get Ready for an Epic Day on Your Key West Island Adventure!
Your Key West Island Adventure starts on a comfortable catamaran ride out to the Gulf Backcountry – enjoy the vibrant neon colors of the hundreds of tropical fish species and corals as you float gently above the Coral gardens. Enjoy an all-inclusive back-to-nature eco-tour! During your Key West Island Adventure, you will spend a morning or an afternoon in the water, in the backcountry, and kicking back on a remote sandbar. Pick the afternoon trip, then on your journey back to the dock, you will enjoy our spectacular sunset…a beautiful way to end your day in Paradise! A magical escape where you can swim, snorkel, and soak up the sun in peace. Leave the touristy spots behind and join us on our Key West Island Adventure!
Backcountry Snorkeling
Our crew will provide you with state-of-the-art snorkel gear, including mask, fins, and snorkel—and even a float if you wish. You will also get plenty of helpful training to help you use your snorkel equipment safely. Even first-timers can explore the wonders of our beautiful water and its magnificent inhabitants. After your snorkeling adventure, you will head to a secluded island. While you travel, keep a close watch on the waters off Key West — you never know when you may spot one of our world-famous wild bottlenose dolphins or a curious sea turtle or two. 
Guided Kayak Tour
Grab a kayak and explore the crystal waters during a Key West kayaking tour. You will be awed by the stunning natural beauty and local wildlife in their natural habitat. Our knowledgeable guides will lead you through picturesque waterways and reveal hidden gems along the way. Keep an eye out for the local wildlife, from colorful fish to graceful sea turtles. 
Relax on Remote Sandbar
Discover one of the most unspoiled beaches in Key West Florida and bask in the sun as you sip a frosty Corona. Sink your toes into the warm sand of the shallow waters or enjoy some exciting water activities! After all the excitement, unwind and soak up the sun on a remote sandbar or in the calm, shallow waters. Relaxation is key as you bask in the beauty of your surroundings. 
Enjoy a Spectacular Sunset
Sunset cruises are one of Key West's most popular tourist attractions, and with good reason. On our afternoon excursion, you will have an unobstructed view of the horizon from the catamaran. As the tropical breezes caress you, you will have the unequaled opportunity to watch the magenta, tangerine, and ruby glows of the setting sun as it sinks into the Gulf of Mexico. Come join us and unwind with a Key West state of mind. 
All-Inclusive Back-to-Nature Eco-Tour!
Join us for an unforgettable journey filled with snorkeling, kayaking, wildlife encounters, and ultimate relaxation. Discover the wonders of Key West's underwater world and create memories that will last a lifetime. It is a magical escape where you can swim, snorkel, and soak up the sun in peace. Leave the touristy spots behind and join us on our Key West Island Adventure.  
9:30am / 3:30pm (varies seasonally)
CHECK-IN:
30 minutes prior to start time!
DEPARTURE LOCATION:
Located at 631 Greene Street, on the corner of Greene and Elizabeth St., next to The Conch Republic Seafood Company.
Boat Features
Island Cat (45ft) & Low Key (45ft)
Custom-Built, Spacious Power Catamaran
Fresh Water Rinse
Modern Marine Restroom
Your Trip Includes
Top-of-the-Line Snorkel Gear
Professional Instruction
Reef Safe Sunscreen
Complimentary Beverages
Morning Trip Includes Breakfast & Lunch
Sunset Trip Includes Lunch & Champagne
What to Bring
State/Govt. Photo I.D.
Towel
Bathing Suit
Hat & Sunglasses
Water Shoes
Gratuities (customary)
Refillable Water Bottle
March – September, 3:30pm trip includes sunset views on the way back to port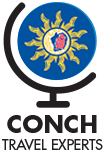 Book your Key West tours and attractions today
Wild and fun or a bit more upscale or laid back-as Conch travel experts we'll help you plan a trip that's perfect for you.