Come experience the wilds of the Florida Keys at your own leisurely pace on your Full-day Sail, Snorkel & Kayak Tour. Eco Tours are one of the most popular things to do in the Florida Keys. Learn about this complex, lush ecosystem from a knowledgeable nature guide as you paddle a sea kayak through mangrove islands, go snorkeling around pristine patch reefs and shipwrecks, and enjoy a rainbow of tropical birds and fish. You may even spot a shark or a stingray!
Sail, Snorkel, Kayak - Half Day or Full Day Options
Starting at $99.00
Check in 30 minutes prior to departure
Trip Duration: 4.5 and 6.5 hours 
Departs Everyday
Sail, Snorkel & Kayak - Morning
Sail, Snorkel, & Kayak - Afternoon
Sail, Snorkel, & Kayak - Premium Day
What's included in your Sea Kayaking and Snorkeling Tour?
An experienced nature guide
A sea kayak (these are very stable kayaks which can be paddled by just about anyone of any age)
Sanitized snorkeling equipment (there's no need to bring your own)
Fresh fruit and other healthy snacks
A variety of soft drinks, bottled water, and (perhaps most importantly) beer after snorkeling
In the winter months, we provide warm drinks and wetsuits (at no extra charge)
Prescription-strength snorkeling masks are available if necessary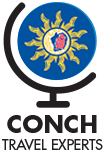 Book your Key West tours and attractions today
Wild and fun or a bit more upscale or laid back-as Conch travel experts we'll help you plan a trip that's perfect for you.