The Original Key West Tropical Bike Tour – Since 1991! It's tough to slap an itinerary on Key West. The whole point of this two-by-four-mile island, after all, is to kick off your shoes and let it all hang out. But here's the rub: do Key West wrong and you might not relax. So where is the strange, laid-back island that everyone fell in love with? It's still there, if you know where to look. It's found biking through Old Town at dusk, when the porches light up and jasmine fills the air. Done right, Key West is still a place where time stands still.
Times & Durations
Adult $59.00 Children: $49.00 (12 and under) Babies $30.00 (baby seat)
Bikes Included
Bike Tour Times: 9:45am, 2:00pm
All Key West bike tours are 2 hours!
Check in 15 minutes prior to departure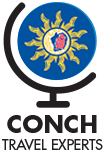 Book your Key West tours and attractions today
Wild and fun or a bit more upscale or laid back-as Conch travel experts we'll help you plan a trip that's perfect for you.