Discover Key West's Haunted History Ghost Hunt with the people who know it best on a 90-minute stroll through Old Town. Sloan's Key West Ghost Hunt – The original ghost Hunt in Key West! Since 1996.
 $28.00 Per Person (ages 5+)
Trip Duration: 1.5 hrs
Begins: 9:30 pm Ends: 11:00 pm
Check in 15 Minutes Prior
Duration: 1.5 hrs
90 Minute Stroll Through Old Town
What to Expect -
our interactive tour is an authentic exploration of the other side, featuring unusual and entertaining guides and tours created by renowned paranormal investigator and author, David L. Sloan. Key West is consistently ranked as one of the most haunted cities in the United States. We look forward to helping you experience that first hand. We are not out to scare you on our hunt and we do not dress in costume or do anything fake. We are the real deal and hope to assist you in engaging the spirits.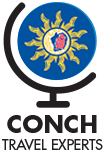 Book your Key West tours and attractions today
Wild and fun or a bit more upscale or laid back-as Conch travel experts we'll help you plan a trip that's perfect for you.