Wild Dolphin Safari (6 Passenger)
Key West Wild Dolphin Safari gets you back to nature. Indulge your senses as you pass over natural sands through the blue waters of Key West into the playgrounds of wild dolphins. Watch as the sea fills with their shapes and energy. Delight in watching dolphins romp, feed, and play. The presence of the dolphins thrills your body, mind and spirit. Enjoy their gentleness and grace in the wild. Hundreds of dolphins call the waters of Key West home, so come share the memorable experience of seeing dolphins in their natural habitat.
Overview
Details
Know Before You Go
Cancellation Policy
Rules and Regulations
Adult: $99.00 Child: (10 and under) $79.00
Trip Duration: 3.5 Hours
Check In: 30 prior
Departure Times: Summer 8:30 am, 12:30 pm, 5:00 pm
Free Parking
Reserve your morning, afternoon, or sunset combo today! If you are traveling with a group, family or simply prefer a private dolphin safari, charters are also available.
Please note: After your purchase is confirmed you will receive a complete tour itinerary with check-in time, location and what to bring.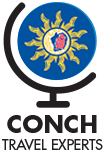 Book your Key West tours and attractions today
Wild and fun or a bit more upscale or laid back-as Conch travel experts we'll help you plan a trip that's perfect for you.