Scuba Dive – USNS Vandenberg Wreck
Key West Artificial Reef Diving.The USNS General Hoyt S. Vandenberg has become famous as "the best artificial reef dive site for recreational divers worldwide!"
Our morning trip goes to the world's second largest artificial reef, the Vandenberg. Sunk in 2009, this 520-ft long, 100-ft tall shipwreck sits on a sandy bottom at 140-ft deep. The approximate depth of the deck is about 100-ft. Diving this wreck is a truly unique experience!
While this is considered an advanced dive, it is accessible to divers of all skill levels who have been diving in the last year and are at least 15 years old. Our crew sets up a line descent system using a traverse line to the main mooring line to the wreck. Guides are suggested for all and required for divers who do not hold at least Advanced Certification.
Morning Double-Wreck Dives
$135.00 per diver w/ tanks, weights, BC & regulator, wetsuit if needed
Divers of All Levels / 15 yrs+ check-in at 8:00 am
4.5 Hours
Dive the World's 2nd largest Artificial Reef with us!
Return 12:00-12:30pm
Wreck dives are advanced deep dives, therefore you need to have an advanced open water certification. If not, you can still dive the wrecks, but you'll have to hire a private guide. You also have to be at least 15 years old.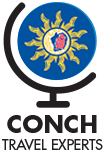 Book your Key West tours and attractions today
Wild and fun or a bit more upscale or laid back-as Conch travel experts we'll help you plan a trip that's perfect for you.