Wanna be your own captain in the tropical waters around Key West? Then the Snorkel Safari Eco Tour is for you. Experience a 2 1/2 hour guided tour piloting your own 15′ mini speed boat. Follow your guide on this 20 mile adventure. Explore the National Marine Sanctuary. Go where only the locals go.
You will visit a local hidden treasure, Mud Keys, where you can enjoy a beautiful sandbar and secluded beach. The Mud Keys sandbar is one of the most secluded sandbars in Key West, making this trip a true adventure.
You can also explore this tropical mangrove island with a few trail options. This trip takes you through the Florida Marine Sanctuary. Grab some snorkel gear and explore this mangrove island, known for its crystal clear waters and abundant wildlife. Come explore our secluded beaches and mangrove islands only accessible by boat. This 25-mile guided tour is arguably the most beautiful Key West excursion.
15' Mini Jet Boat Eco Tour: Jump in and captain your very own private boat as your tour guide takes you through Key West's backcountry on this one-of-a-kind Key West eco-excursion.
Snorkel Safari Tour: $178.00
Maximum Occupancy: 2 Adults  (3rd Rider may be added if child 40 pounds & under for $44.00)
Trip Duration: 2.5 Hours
Departure Times: 10:00am, 1:00pm
Must be at least 18 years of age to operate boat (unless accompanied by parent or legal guardian)
What's Included
Pilot your own boat
Snorkel Gear
Experienced Guide
Snorkel shallow reef
Stroll on the beaches of the backcountry
Explore the beautiful mangroves
See natural wildlife of the famous Florida Keys Marine Sanctuary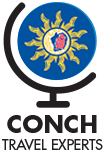 Book your Key West tours and attractions today
Wild and fun or a bit more upscale or laid back-as Conch travel experts we'll help you plan a trip that's perfect for you.