Snorkel Safari 25-Mile Guided Eco Tour
Take off on your Snorkel Safari Eco Tour and captain your own ship in Key West's tropical waters. Take a thrilling 2 1/2 hour guided tour on a 15′ mini speed boat, covering 20 miles. Explore the wonders of the National Marine Sanctuary and bring along a friend or small child. Discover hidden gems off the beaten path known only to locals.
Pilot Your Own Mini Speed Boat
Visit Mud Keys, an exquisite secret paradise with a beautiful sandbar and secluded beach. This sandbar is one of Key West's best-kept secrets, offering an extraordinary adventure. The history of Mud Keys is also quite fascinating. It was once a popular spot for pirates and shipwrecks, and today it is a popular spot for locals and tourists alike. Our guides will share the rich history of the area, adding another layer of depth to your experience.
Key West Snorkeling in Crystal Clear Waters
Explore the tropical mangrove island with various trail options. Traverse the Florida Marine Sanctuary, snorkel gear in hand, and immerse yourself in crystal-clear waters teeming with wildlife. These secluded beaches and mangrove islands are accessible only by boat, making this 25-mile guided tour an unforgettable experience. Prepare for a one-of-a-kind Snorkel Safari where you are the captain of your destiny. Cruise through tropical waters, uncover hidden treasures, and experience the mesmerizing beauty of the National Marine Sanctuary. Dive into pristine waters teeming with vibrant marine life and bask in the seclusion of stunning beaches and mangrove islands.
Unleash your adventurous spirit and book your Snorkel Safari today. Set sail on an unforgettable Key West excursion, creating cherished memories of crystal-clear waters, thriving wildlife, and the thrill of captaining your own ship.
Safari Boat (for 2 people)
3rd Rider (must be 40 lbs or less)
CHECK-IN:
45 minutes prior to start time!
DEPARTURE LOCATION:
Cow Key Marina at 5001 5th Ave., Key West FL  33040
Trip Features
25-Mile Guided Eco-Tour
Snorkeling
Piloting Your Own 15′ Mini Speed Boat
Crystal Clear Waters & Abundant Wildlife
See Florida Marine Sanctuary
Explore the Beautiful Mud Keys (a hidden gem)
Your Trip Includes
Expert Tour Guide
Snorkeling Gear
15′ Mini Speed Boat
What To Bring
Valid Government ID and Credit Card
Towels
Bathing Suits
Hats
Sunglasses
Camera
Sunscreen (biodegradable eco-friendly)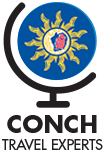 Book your Key West tours and attractions today
Wild and fun or a bit more upscale or laid back-as Conch travel experts we'll help you plan a trip that's perfect for you.