Glass Bottom Boat Eco Tour
Welcome aboard the coolest adventure in Key West – our amazing Glass Bottom Boat Eco Tour! Get ready to dive into the underwater world like never before. Firstly, hop on our super cool glass-bottom boat and prepare for a mind-blowing experience!
We're taking you on a ride through the crystal-clear waters of the Florida Keys. Our local guides, who know the island like the back of their hand, will show you the coolest spots and tell you all the secrets of this awesome place we call home.
Peek through the special glass panels on our boat and get ready to meet some of the most colorful fish, super chill sea turtles, and mind-blowing coral reefs. It's like watching a crazy underwater dance party right beneath your feet!
But here's the best part – we're all about keeping it real and protecting our beautiful environment. To begin with, we're totally committed to taking care of our underwater buddies and making sure our oceans stay rad for generations to come. Join us in this epic mission to save the sea!
So, whether you're a nature lover, a marine enthusiast, or just up for a wild adventure, our Glass Bottom Boat Eco Tour is the perfect choice. So, jump on board and let's make some unforgettable memories together. In conclusion, book your tour now and let the underwater magic begin!
Glass bottom Boat Eco Tour
Adult: $64.95 Child: 4 to 10 $45.95 Infant: (0-3) $0.00
Trip Duration: 1 hour 45 minutes
Departure Times: 10:00 am, 12:00 pm & 2:00 pm
Check in 30 minutes prior to departure
 65' State-of-the-art Glass Bottom Boat Catamaran
Requires tickets for all passengers.
Boat Features
State-of-the-Art Catamaran Glass Bottom Boat (65ft)
Air Conditioned Viewing Area
Twin 45 Degree Observation Hulls
Large Seated Sundeck
Modern Marine Restrooms
Twin Hull Design for Maximum Stability
Trip Features
See North America's Only Living Coral Reef in Comfort
Special Glass "Windows to the Reef" Provide Continuous Viewing for all Passengers
Expert Tour Guides
Continuous underwater viewing from an enclosed, air-conditioned viewing deck
A welcoming sundeck where you can catch some rays (yes, there are sunning chairs)
The spacious catamaran comes well equipped with snack bar & restrooms
The twin hull design allows for maximum stability for your viewing pleasure
Hours of fascination and fun for guests of all ages on a trip that's great for families and kids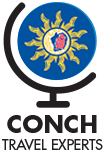 Book your Key West tours and attractions today
Wild and fun or a bit more upscale or laid back-as Conch travel experts we'll help you plan a trip that's perfect for you.